A Social Networking App for Dog Owners
Social and personal connection of all kinds has been a driver of society since, well, forever.  Once such connection is the bond humans can develop with their pets.  For dog owners in particular, it is important to develop their own connection with their dog, as well as facilitate connection with other dogs.  Dogs are social creatures too, after all.
There are many social networking platforms and apps that we use to meet new people.  However, there are a lack of options specifically designed for dog owners who want to meet other dog owners in their area.  I am currently not a dog owner myself, but after speaking with friends, family, and coworkers who are, it became apparent to me the need and importance placed on an app that would enable this form of connection.  A great idea for a side project, I thought.
So, here's Doggie Date!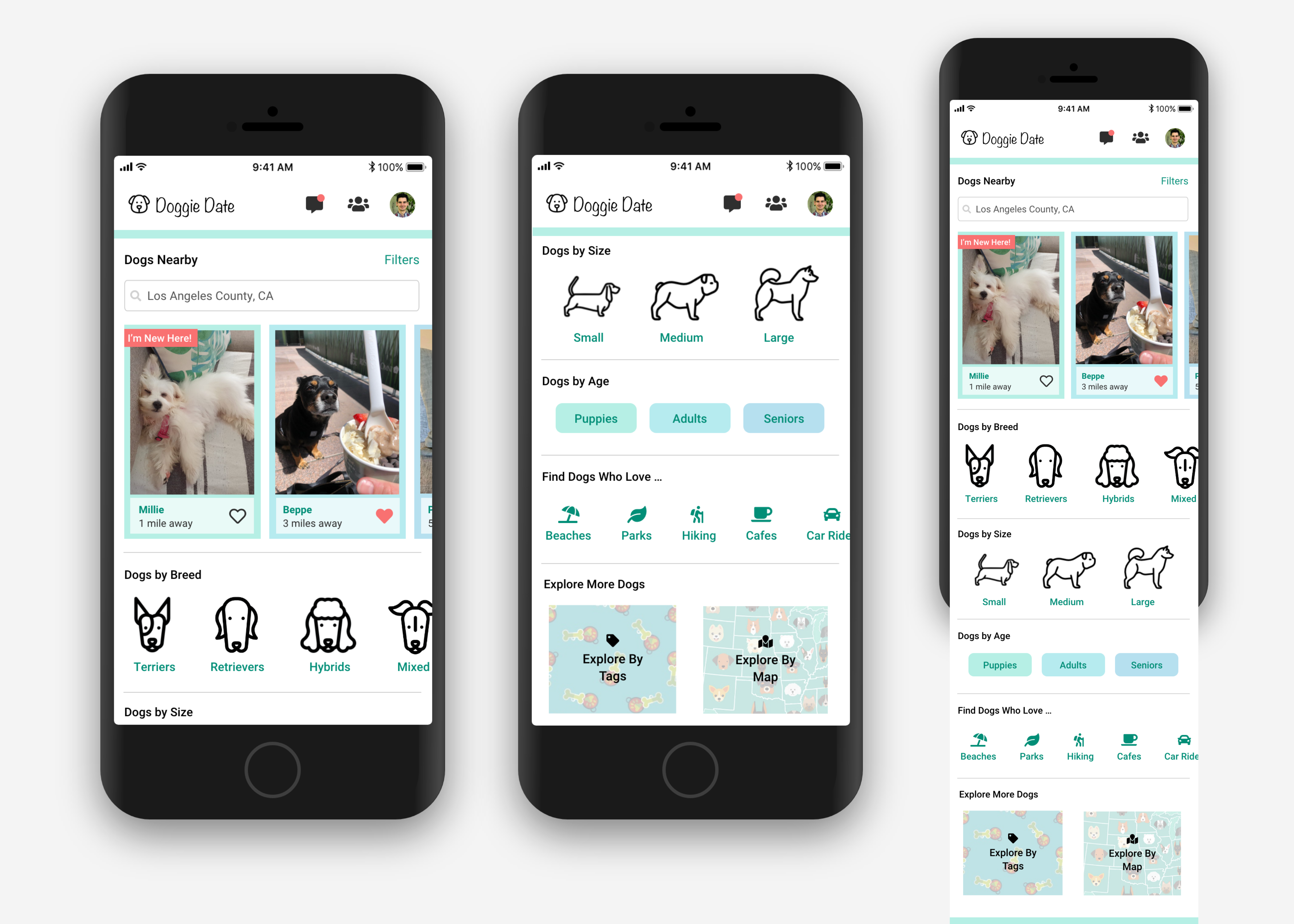 Drawing inspiration from the explore pages of social media apps like Instagram, travel apps like Airbnb, Shopping apps like Depop, and more, I wanted to start with a highly visual home page. This makes it clear to the user what this app is, what it can help with, and who you can find (plus, cute dogs pics aplenty).
Doggie Date is part exploration and part social networking. The user can browse dogs by two filter categories: Tags (which include breed, size, age group, background, and preferred activities), and Location. By visualising the filters on the home page, the user can get an immediate feel for how the dog search process works to find the most compatible play mates for their fur baby. Additionally, it includes the essentials to facilitate connection: A messaging function, and the ability to follow other dogs (and their owners) on the app.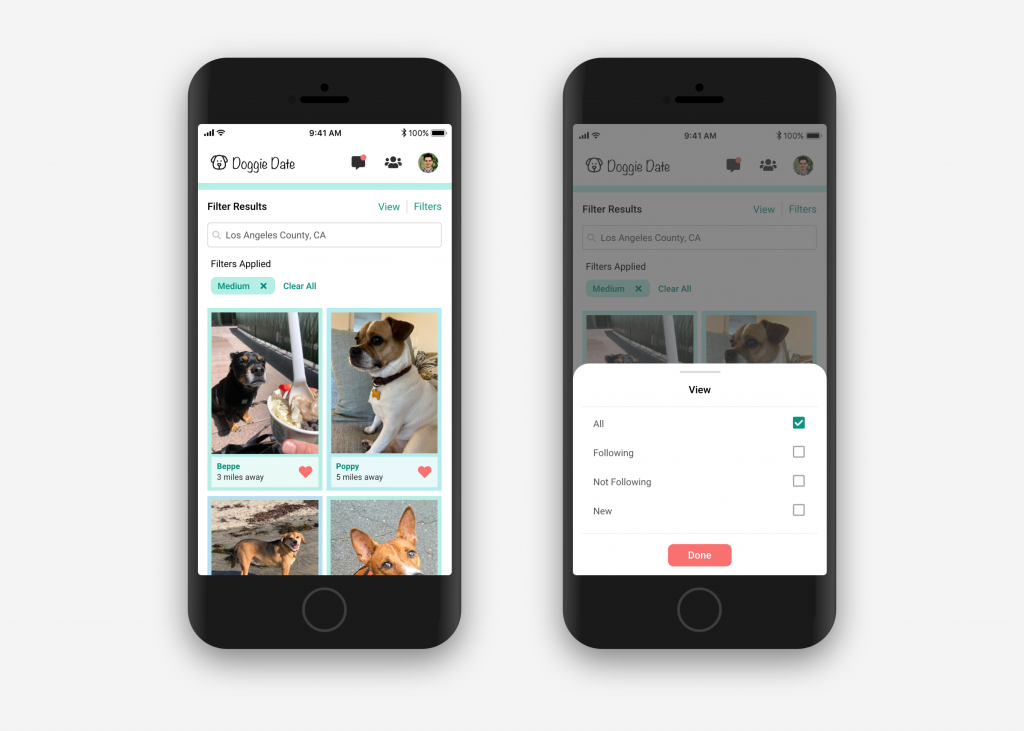 When the user taps one of the visualised filters on the home page, they are taken to the Filter Results page which shows them all the dogs that meet the criteria. This demonstrates to the user how to see dogs that meet their needs, while also educating them on how the filter function works. From here they have the option to clear their initial filter, in order to set even more relevant filters next time. From the Filter Results page, the user also has the option to customize their results further by narrowing their view to show all dogs, dogs they are following, or not following, or dogs who are new to the app.
When a user taps on a dog from the home page, they are brought to the joint dog/owner profile page. I wanted to keep the profile as simple and no fuss as possible with minimal but clear CTAs, so the focus can be on what's most important - the dog and their owner.
The profile page includes bios (written by the owner) to get to know the dog and their owner better. The user can tap 'View Tags' to view all the tags the owner has used to describe their dog (e.g. size, breed, age, etc) to help determine if the dogs will get along with each other. The owners can keep in touch by following each other (represented by a heart icon). The photo feed included on each dog's profile page provides another simple way for the user to follow the dog and owner, see what sorts of activities they enjoy, and stay updated (cue those cute dog pics again).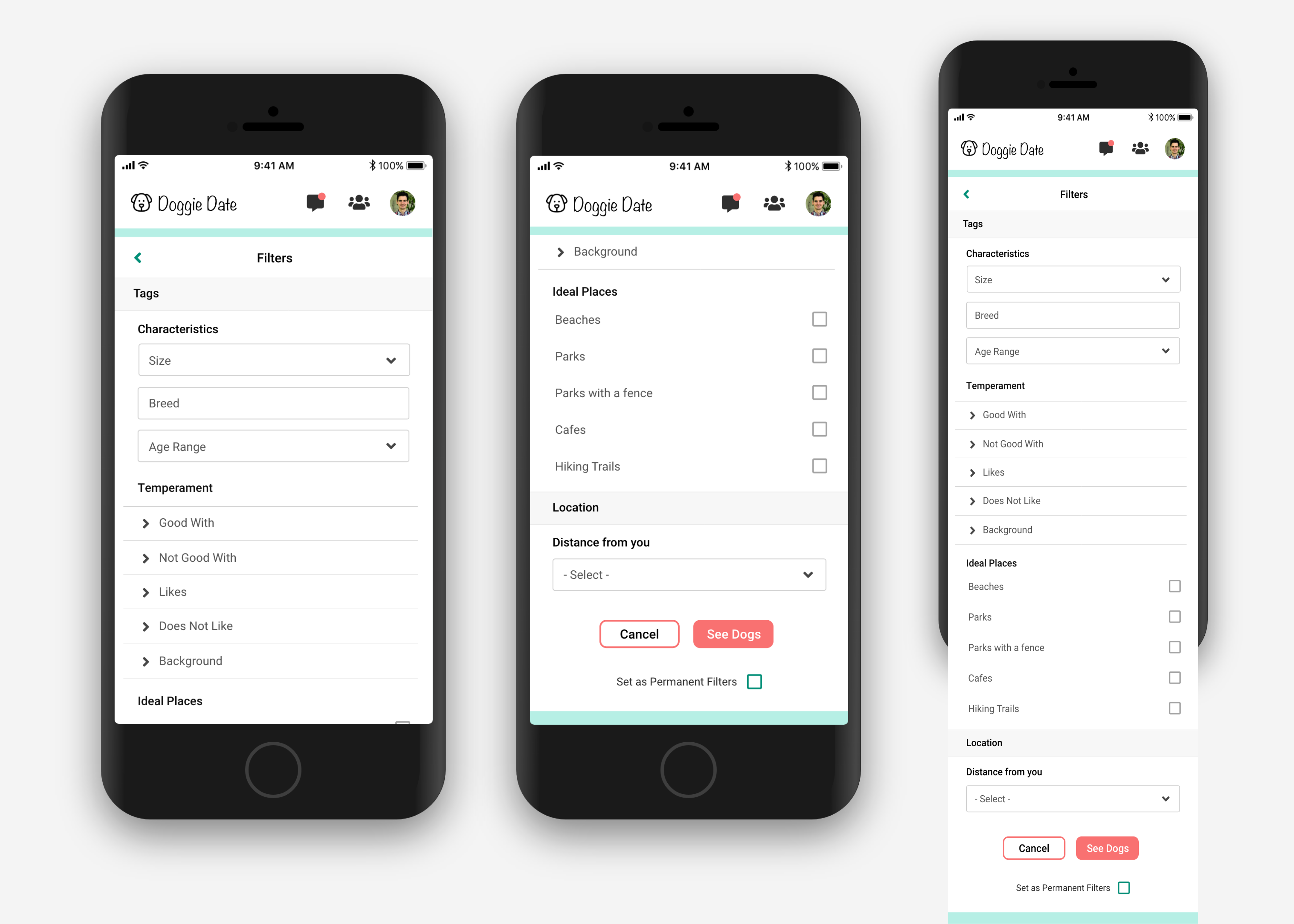 I know I'm talking about filters a lot, but hear me out! Just like us, every dog has their own distinct personality, unique background, and preferences. This is why I felt that including robust filtering in my design was important. While we're all social creatures, when meeting a stranger, we want the interaction to go smoothly, avoid awkwardness, and generally ensure everyone has a positive experience (for both humans and dogs alike). By enabling the user to narrow down dogs by specific characteristics, temperament, background, and preferences, it can help to mitigate some of the risk involved in having two dogs meet for the first time.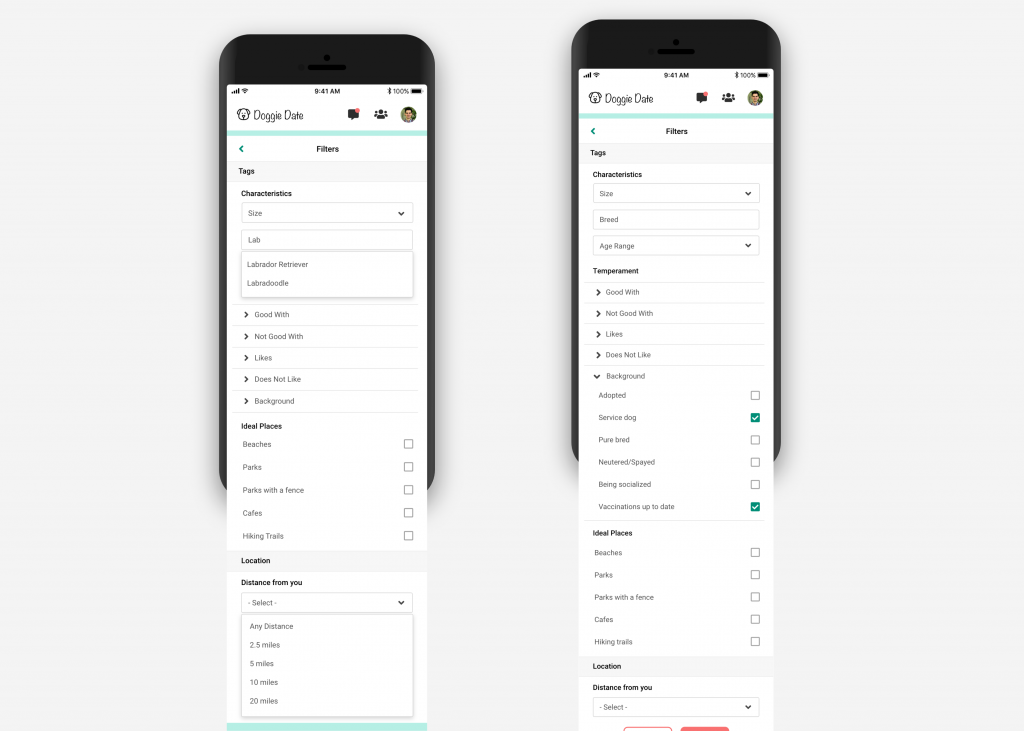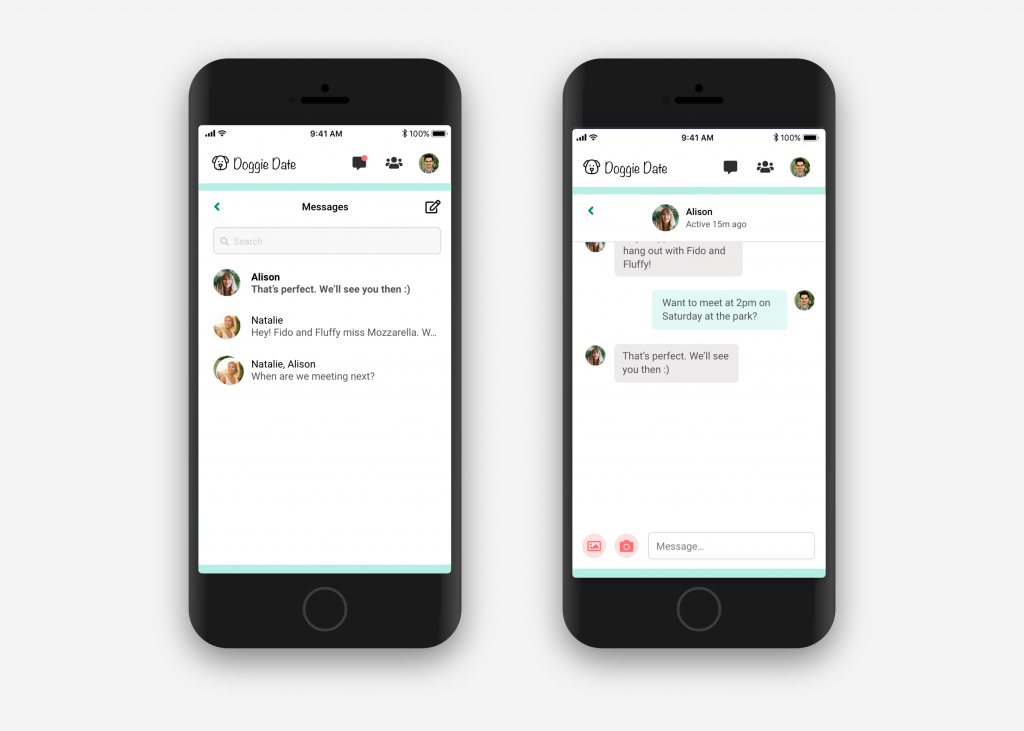 The messages section is where owners can connect to share further information about their dogs, and schedule their doggie dates!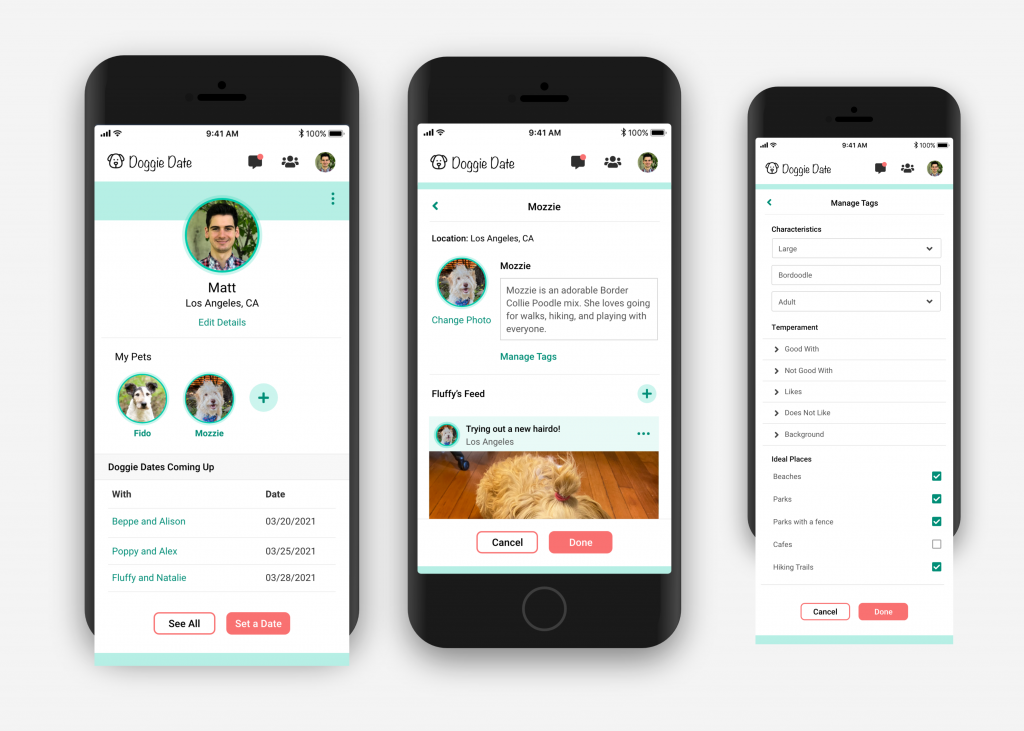 The user has their own profile page where they can edit their own details.  They can also edit details for their dog(s) by tapping the dog whose details they want to edit.